MARTIN EDEN a film by Soufiane Adel
Note of intent
Love is beautiful
Love is stronger than anything else.
Yes love makes men and women move mountains.
But when love dies, emotions are exacerbated; relationships and feelings express themselves more violently.
Love carried me through Jack London's novel, Martin Eden.
It caught me in the most intimate way.
I thought about what makes its fabric: the struggle against poverty, my relationship towards class, my thirst to access knowledge. The curiosity, the desire to better oneself and to be integrated within French society. I, born in Algeria and arrived in France at the age of 8 years old.
Life as a human adventure.
This beautiful story got to me. Suddenly, my childhood dreams were coming to words: passion, ethics. This tale is not only tragic but it is as powerful as endearing. It gives a desire to love, to still believe in it.
Louise and Martin have the chance to meet, to find each other. Martin feels touched by this young woman's grace. Infatuated, he lets his desire and heart speak: "Oh Shakespeare and you Dante, a poet can arise" (sonnet from Mallarmé).
This character deeply moved me by his nobility of heart and soul.
A man touched by a woman which reveals to himself all his potential.
I understood what impact had on me Martin Eden as a character
Impact on an immigrant kid, son of a simple worker, who grew up with a lack of money and a family fear of moving towards the unknown.
This book made me understand love and its mistakes. This is what very moves me with this story, an impossible American tale, a still modern tragedy. An unbridled run towards love and its consequences on men and women.
A contemporary tale in a diverse France.
The passion : I chose cinema
It took me ten years of work. I first adapted it literally, then in a more academic way, before coming back a few months ago to a more personal and intimate writing style, to an autobiographical inspiration. But also by sticking to the type of cinema that I like and have been pursuing: a cinema I would like to promote with my works, and here in France, the cinema of the New Hollywood which has been formative to me.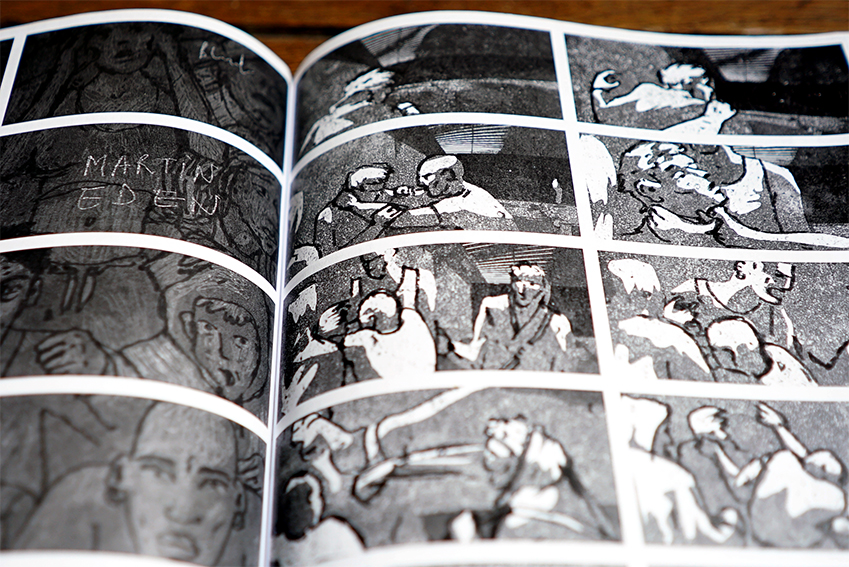 Power and Transfert
Martin is buried in a daily routine of odd jobs and money scarcely spent deprived of appeal and novelty. A character under influence who grew up without ever questioning the oppression of his condition. Suddenly, the meeting of Louise and Baldwin's book give him the opportunity to turn to something more. He accesses social upward mobility through culture and build his own observation and critical tools. Martin develops an intuition to position himself within the world. He becomes himself, gain conscience of his body, his eye and his heart.
Cinema can describe Martin's evolution, by filming post-industrial era remediation sites, gigantic settings of ground and concrete within which bodies look like small Legos. I intend to capture the reality of urban projects and their beauty with Frédi, Yasmina, Martin and his colleagues at work, his singular relationship with Cassandre.
I want to focus on the love story, the union and division of this couple within its intimacy, one's body against the other, talks in gardens and family life at Louise's parents and in Martin's family.
I will explore romanticism, dance, body at work, and love in moving.
I want to give birth to my own cinema, a cinema arising from my double culture and double language, at the crossing of these paths.
Move forward
My cinema is still inventing himself during preparation, scouting, casting and this adventure gest even richer during shooting.
I sincerely hope the diversity and the vision of this fiction will carry you away as well.
With this film, I have aimed at defining my place in this world, one of hospitality.
Thank you very much for your attention.
Best Regards
Soufiane Adel
EXCERPT FROM THE SCRIPT